---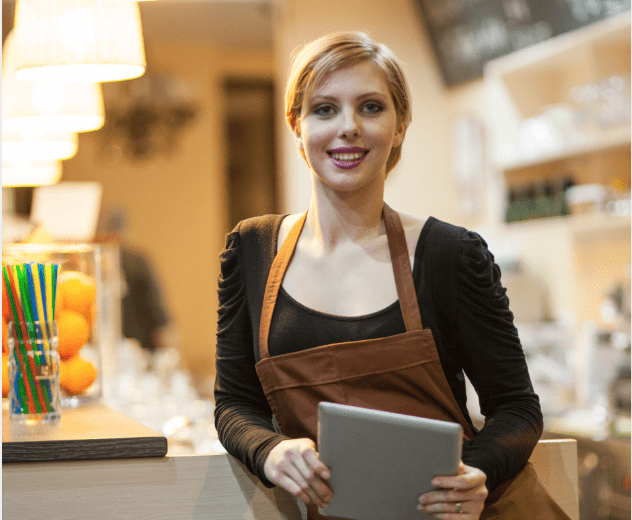 22nd June 2017
Allergens in a nutshell: A practical guide to Allergen Compliance for Food Businesses
Posted by: Cater Care
Sinéad Fox, Managing Director of Cater Care provides information on allergens and allergen compliance in food businesses.
EU law states that the use of 14 specific food allergens in producing or preparing a food or beverage must be declared. These 14 food allergens are specified in the Food Information for Consumers (FIC) Regulation (EU) No 1169/2011 which came into effect in December 2014.
In Ireland, national legislation stipulates that food allergen information for non-prepacked food must, at a minimum, be provided in written format to the customer.
The Food Safety Authority of Ireland provide a useful online information document "Allergen Information for Non-Prepacked Food".
In May 2017, the FSAI conducted an audit of 50 food service businesses to determine if correct written allergen information was being provided to consumers. 88% of food businesses audited had findings that required corrective action.
SO, HOW CAN FOOD BUSINESSES BECOME COMPLIANT?
By simply providing written information to the customer in relation to the presence of allergens in the food and beverages that are sold un-packaged!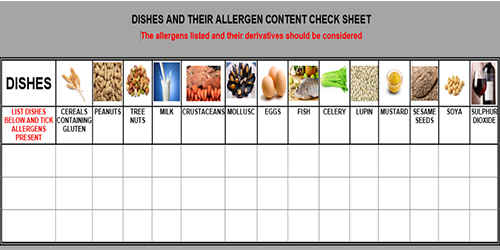 The template above is a clear and visual method of listing each dish and ticking any of the 14 listed allergens contained therein.
This can be used by food businesses to capture and track the information required for menu boards, allergen booklets, websites, menu boards, etc.
The starting point of this compliance exercise is to review all recipes of dishes and products and ensure they are standardised i.e. prepared/made using the same ingredients all of the time.
The label of each food ingredient within each dish must be analysed and allergen information captured (this is where the allergen checker template is useful!).
Once the allergen checker is completed by ticking all allergens in the dish, then the information can be transferred to the relevant location as the written food allergen information.
SO WHAT ARE THE 14 ALLERGENS?
Cereals containing gluten
Crustaceans and products thereof
Eggs and products thereof
Fish and products thereof
Peanuts and products thereof
Soybeans and products thereof
Milk and products thereof
Nuts, namely: almonds, hazelnuts , walnuts, cashews, pecan nuts, Brazil nuts, pistachio nuts, macadamia or Queensland nuts and products thereof
Celery and products thereof
Mustard and products thereof
Sesame seeds and products thereof
Sulphur dioxide and sulphites at concentrations of more than 10 mg/ kg or 10 mg/litre
Lupin and products thereof
Molluscs and products thereof
Should you require information or assistance to ensure allergen compliance, Cater Care's Allergen Experts can help you become compliant!
To speak about this further please call 061 469008 or email sinead.fox@catercare.ie
Request a call back!
For more information on training or consultancy for your business, fill in the form and we will give you a call!